Skin Cancer Specialist in Acworth, GA and Douglasville, GA
Skin cancer is the most common type of cancer in the United States, with more than three million diagnosed each year. Exposure to ultraviolet light from the sun can cause abnormal cell growth — skin cancer — and it can impact anyone at any age. Early diagnosis makes treatment more effective, so regular skin cancer screenings are an important part of maintaining your health. Amr Agha, MD, of Advanced Dermatology in Acworth and Douglasville, Georgia, offers comprehensive skin cancer services, including screenings, diagnosis, and treatment. To learn more, call the Atlanta Metro area office or click to schedule your first appointment online.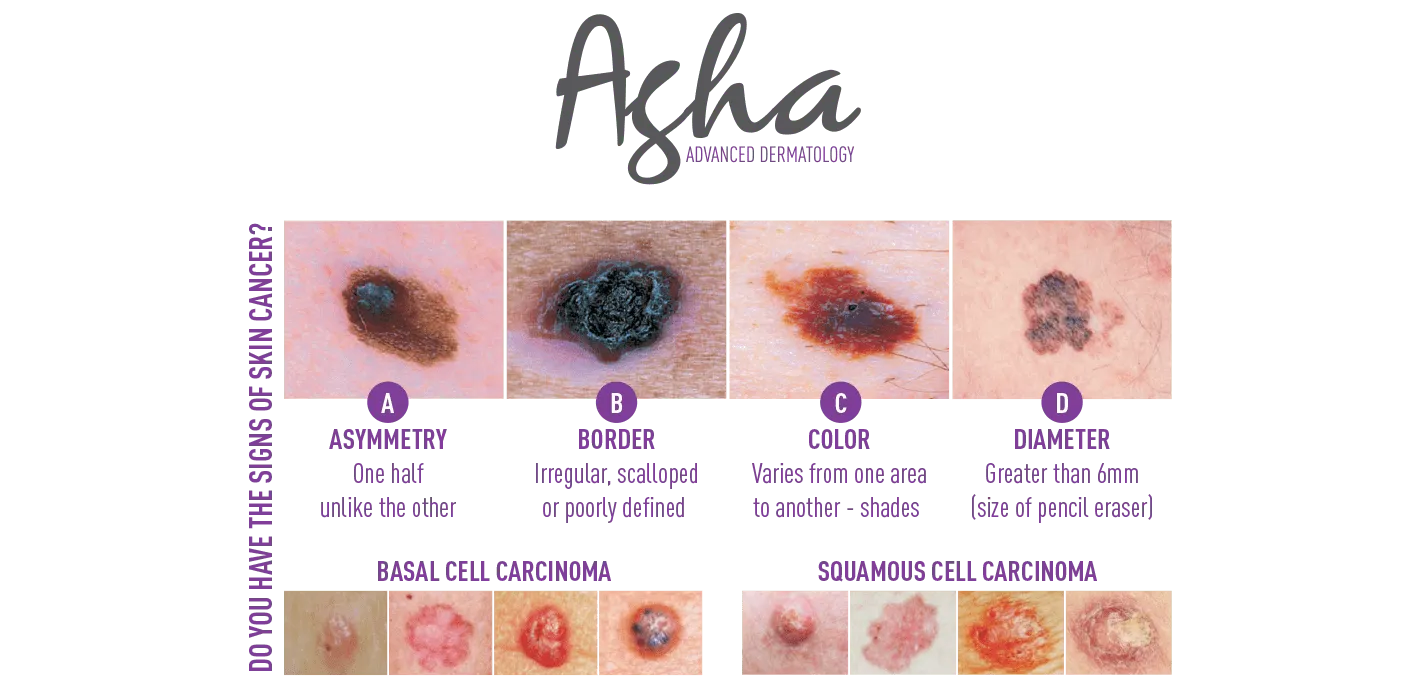 Skin Cancer Q & A
Skin cancer occurs when abnormal cells in the epidermis, or outer layer of skin, grow rapidly and overwhelm healthy cells. Malignant tumors form when the cells multiply uncontrollably.
The sun emits UV rays, which causes damage to the DNA in your skin cells. If the cells aren't repaired, mutations can occur in the cells that lead to the development of skin cancer. The UV light from tanning beds can also cause skin cancer.
The most common types of skin cancer are:
Basal cell carcinoma (BCC)
Squamous cell carcinoma (SCC)
Melanoma
The type of skin cancer you have depends on which type of cells are growing abnormally. BCC and SCC often appear like red or scabbed sores, while melanoma appears like a mole on your skin.
Sun exposure and the use of UV tanning beds are the leading causes of skin cancer. You can avoid using tanning machines, but you can't avoid the sun. Your skin suffers sun damage over the years with even minimal exposure, such as walking to and from your car.
Protect your skin from harmful UV rays by making lifestyle changes such as:
Always wearing sunscreen with SPF 15 or higher
Regularly reapply sunscreen if your sweating or swimming
Wearing protective clothing, UV-blocking sunglasses, and a hat when outside
Avoiding being outside when the sun is strongest, between 10 a.m. and 4 p.m.
Avoiding sunburns
Not tanning
It's a good idea to examine your skin once a month, as well as get annual skin cancer screenings. Detecting skin cancer early or when it's a precancerous growth that hasn't developed into cancer yet helps Dr. Agha at Advanced Dermatology treat it effectively.
Dr. Agha is an expert in the latest methods of skin cancer treatment. He begins the diagnosis of skin cancer with a skin examination. Skin biopsy, where he takes a small sample of the affected skin, may be required to confirm that skin cancer is present.
Treatment depends on the type of skin cancer you have and how advanced it is. Precancerous growths and small, early skin cancers can be frozen or removed with surgery.
For skin cancers that are recurrent or hard to remove, Mohs micrographic surgery is an advanced surgical technique that removes the affected skin one layer at a time. Dr. Agha is fellowship-trained in Mohs micrographic surgery. Chemotherapy creams and lotions use drugs to kill the cancerous cells. Another option for some types of skin cancer is superficial radiation therapy.
Superficial radiation therapy is a treatment option for non-melanoma skin cancers, including BCC and SCC. It's completely noninvasive, using precise beams of X-ray light to target cancerous cells with radiation.
With SRT, radiation reaches just below the surface of your skin. It destroys cancer cells without causing damage to deep tissue or surrounding healthy skin cells. Superficial radiation therapy is effective and minimizes scarring, making it a good choice for skin cancer treatment on the face.
Visit Dr. Agha at Advanced Dermatology for the best in skin cancer diagnosis and treatment. Schedule a skin cancer screening today by calling the office at (770) 739-7546 or booking online.